Meet the Myers Chiropractic Doctors

Dr. Rachelle Myers and Dr. Jeromy Myers
Early Life and Education of Dr. Rachelle
Dr. Rachelle was born in a small town in New Brunswick, Canada. Always a serious student, the heavy backpack she carried while in school put stress on her spine, causing severe neck pain and immobility. Visits to a gifted chiropractor helped tremendously, and fueled her interest in the overall health benefits of chiropractic care.
Dr. Rachelle received her Bachelor of Science degree in Biochemistry from the University of Moncton in New Brunswick and her Doctorate of Chiropractic degree from Palmer College of Chiropractic in Davenport, Iowa, graduating magna cum laude. While at Palmer, she especially enjoyed the lab work, where she learned about the amazing intricacies of the central nervous system.
Early Life and Education of Dr. Jeromy
Dr. Jeromy was an athlete in high school, and thought the lower back pain he experienced was unavoidable. He'd rely on medications when the pain got too intense until he, along with his entire family, discovered chiropractic care in the very same clinic where he now practices. He couldn't believe the relief the adjustments provided, and saw his performance improve in all aspects of his life.
After studying and playing football at Kalamazoo College, Dr. Jeromy completed his pre-requisite work for chiropractic school at Kellogg Community College and then attended Palmer College of Chiropractic, where he received his Doctorate of Chiropractic degree. He graduated magna cum laude, and one of his proudest moments was receiving the highest grade in a class taught by one of the toughest teachers at the school. (A teacher, by the way, who has been at Palmer since the 1960s.)
Away from the Office
Dr. Rachelle and Dr. Jeromy met at Palmer and married shortly after graduation. They have two daughter, Allison and Alexandra, and two dogs, one of whom is a rescue. (Her name is BooBoo and she loves to come to the office for long naps under Dr. Rachelle's desk. You may also sometimes see her in the waiting room or under an adjustment table.)
Dr. Rachelle is an avid reader, especially of books in her native French, and enjoys knitting and crafts. Still athletic, Dr. Jeromy hikes and lift weights and, for a change of pace, finds inspiration in writing. Both enjoy exploring new ways to stay active as a family.
Dr. Emily Leatherman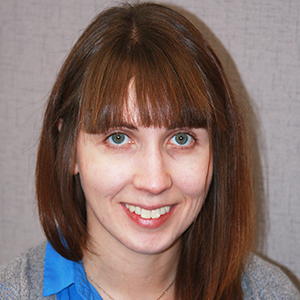 Dr. Emily grew up in Battle Creek and attended Lakeview High School. While there, she met Dr. Rachelle and Dr. Jeromy through her participation in a program called 21st Century Health, which was sponsored by Calhoun Area Careers and Technology Center. She received her Bachelors of Arts in Biology from Albion College in 2008 and her Doctorate of Chiropractic from Palmer College of Chiropractic 2013, graduating magna cum laude. After graduation, she returned to Battle Creek and began working at Myers Chiropractic.
While attending Palmer, Dr. Emily studied the Sacral Occipital Technique (SOT), a gentle chiropractic technique designed to reduce or eliminate pain in the head, neck, back, pelvis, and extremities. This technique involves precise positioning of the body and focusing on allowing the body to adjust itself using an individual's own body weight and breathing patterns.
Away from the office, Emily enjoys spending time with her miniature dachshund, Daphne. She receives regular chiropractic care, allowing her to stay healthy so she can do what she loves doing, including running and maintaining her fresh vegetable garden throughout the spring and summer.


Dr. Matt Hennessy
Dr. Matt grew up in Lake Orion, Michigan. When he was a teenager, his active mother was suddenly bedridden with hip pain and sought chiropractic care. The adjustments led to a very welcomed improvement; at the same time, Dr. Matt saw something different about the chiropractor-he interacted with his mother as if she were his friend. It was not the experience he was used to having in a doctor's office, and he found it to be very inspiring.
After graduating from Michigan State University, Dr. Matt received his Doctorate of Chiropractic from Palmer College of Chiropractic. He has been a chiropractor for over fifteen years, and is also a husband and father, an insatiable studier of the Bible, and an avid runner.
Explore Our Services
Whether you're suffering from back pain, neck pain, or headaches or looking to maintain your wellness, we invite you to explore what we have to offer. We utilize an array of complementary techniques and services to help enhance the care you receive.
EXPLORE OUR SERVICES »
Make a choice to achieve your best health-call today!

Meet the Doctors | (269) 964-1441